AAA News Release: 8/25/2016
NEW AAA SURVEY SHOWS MAJORITY OF VIRGINIANS, MARYLANDERS UNPREPARED FOR EXTREME WEATHER EVENTS
FEW VIRGINIANS & MARYLANDERS HAVE EMERGENCY SUPPLIES OR FAMILY PLAN
AS HURRICANE SEASON REACHES MOST ACTIVE PERIOD, FINDS AAA SURVEY
Alarming Number Report Driving through Water Covered Roadways
WASHINGTON, D. C. (Thursday, August 24, 2016) – As tropical storm Gaston gains momentum in the Atlantic Ocean, and a system oddly dubbed Invest 99L potentially heads toward Florida, a survey by AAA Mid-Atlantic reveals that the vast majority of Virginia and Maryland residents are not prepared for extreme weather events. The polls also exposes the fact that most Virginians and Marylanders haven't given a second thought about making safe driving decisions should a tropical storm or significant storm hit. They have ignored the "Turn Around Don't Drown®" warning and driven into hazardous flood waters. In fact, the survey of area residents shows:
Fewer than one in five (only 19 percent) of Virginia respondents and just 18 percent of Maryland respondents said their storm preparations include securing adequate supplies like food, water and batteries, but also a family emergency plan.
Driving through flooded roadways is an extremely dangerous behavior, yet alarmingly, four in ten (41 percent) of drivers in Virginia and more than a third (38 percent) of drivers in Maryland report having done so in the past.
"The survey validates the concern and the fear that few of us are prepared for a major or a large-scale disaster, a mega storm, or the next catastrophic event or the 'next big one.' The watchword is 'be prepared,' yet an alarming numbers confessed to driving through flooded or water-covered roads or to not having a plan for evacuating their homes in a major event. This is astounding," said John B. Townsend II, Manager Public and Government Affairs for AAA Mid-Atlantic. "It is easy to be lulled into a false sense of security and adopt a casual attitude when it comes to storm preparation in this area. The dangers, however, can be very real. Failure to have a family emergency plan for inclement weather can undoubtedly add unnecessary stress when a storms hits."
Although people living in the "Deep South and near the Gulf Coast are those most vulnerable to hurricanes," Virginia experienced 12 direct hits from major hurricanes in the period from 1851 to 2004, according to an analysis by the National Hurricane Center. Meanwhile, Maryland was impacted by two direct strikes by the deadliest, costliest and most intense hurricanes on the United States mainland in the period from 1851 to 2004. Since then, both states have been impacted by major tropical storms or hurricanes that resulted in heavy flooding. Such systems can also spawn smaller and localized weather-related ruins. Virginians and Marylanders are fairly divided when it comes to fears of flood damage to their property, the AAA Mid-Atlantic survey* found.
Fifty-six percent of Virginia respondents said they were not at all concerned about residential damage while 13 percent said they were very concerned and 29 percent said they were somewhat concerned.

Similarly, 50 percent of Marylanders said they were not at all concerned about residential damage while 14 percent said they were very concerned and 36 percent said they were somewhat concerned.
That's the case although "flooding is the most common and costly natural disaster in the United States, causing billions in economic losses each year." Currently, there are only about 660,000 flood insurance policies in force in Virginia and around 267,990 flood insurance policies were in force in Maryland in 2011. Knowledge of flood insurance requirements among residents of the Commonwealth of Virginia and the state of Maryland is strong, according to the AAA survey.
Ironically, Virginia was by another hurricane named "Gaston," which struck August 30, 2004, notes the Virginia Department of Emergency Management. That "Gaston" caused nine fatalities and destroyed or damaged 5,798 homes, 2,077 vehicles, and 97 businesses. It was one of the five worst storms in Virginia history. It dropped 10-12 inches of water in Richmond and caused $130 million in damage. A year later Virginia was directly impacted by Tropical Depression Ernesto on August 29, 2006, that resulted in seven fatalities, $118 million in total damages (not including economic losses), and 609 homes that were either destroyed or damaged.
Since 2004, Maryland has been impacted the remnants of Hurricane Cindy, Hurricane Dennis, Tropical Storm Tammy, Subtropical Depression Twenty-Two, Tropical Storm Alberto, Hurricane Ernesto, and Ocean City was evacuated prior to the landfall of Hurricane Sandy in 2012. The National Hurricane Center, predicts the Atlantic hurricane season will be the most active since 2012.
"Here is a word to the wise. If you don't have a personal/family emergency plan, take the time to create one now. This includes discussing various scenarios with your family and rehearsing the actions you'll take if and when a disaster strikes," said Townsend. "Talking about what to do with family members is critical. Advising family members to stay in a safe place, for example, rather than pushing safety limits to get home so that others won't worry, will give everyone greater piece of mind. Our survey is not the first to reveal the lack of preparedness."
Floods are the number one disaster in the United States. Homes in low risk zones account for nearly 20 percent of flood claims every year. Just two inches of water in a 2,000 square foot home, can cause as much as $21,000 or more in damage. AAA Mid-Atlantic offers these severe storm/ hurricane preparation tips:
Make a Plan

– Develop a Family Emergency Plan to include ways to contact each other, alternative meeting locations, and an out-of-town contact person. Identify a safe room or safest areas in your home. Research your evacuation route. Be sure and include plans for your pets.

Secure Your Home

– Inspect your home for minor repairs needed to the roof, windows, down spouts, etc. Trim trees or bushes that could cause damage to your home in case of high winds.

Take Inventory

– Update your home inventory by walking through your home with a video camera or smart phone. Keep a record of large purchases including the cost of the item, date purchased and model and serial numbers as available.

Stock Emergency Supplies

– Plan for a week's worth of non-perishable food and water. Be sure to have flashlights, extra batteries, battery-powered radio, medications, first aid kit, blankets, toiletries, diapers, etc. You may also want to prepare a portable kit and keep it in your car should you evacuate.

Check Your Vehicle:

Make sure your vehicle has a full tank of gas, properly inflated tires and ensure your wiper blades are not leaving streaks. Have your vehicle inspected by a certified mechanic to determine if the brakes, fluid levels, air conditioning and belts are in good working condition.

Protect Your Property

– Review your homeowner's insurance with your insurance agent to determine if you have adequate protection. Discuss your deductibles. Be aware that flood insurance in not typically covered under your homeowner's policy. Flooding to your automobile is available under the Physical Damage coverage.
* The poll was conducted by Public Policy Polling between August 19-21, 2016 and has a margin of error of +/- four percent.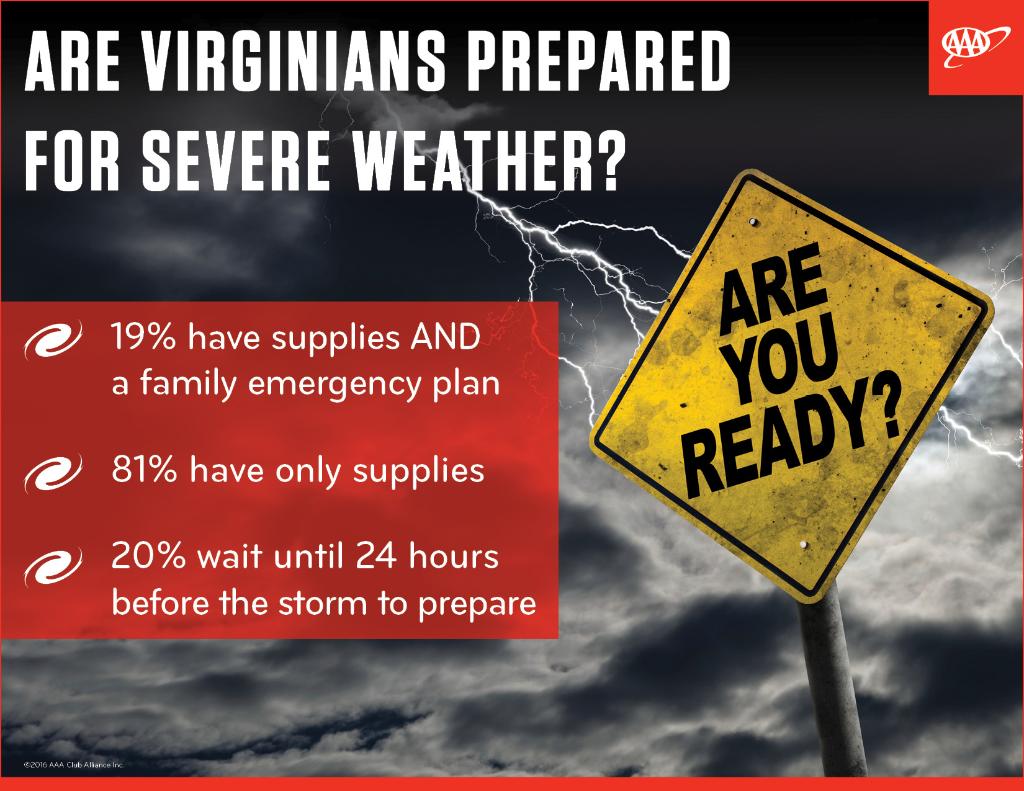 Contact: John B. Townsend II
Phone: (202) 481-6820